Registering for events
Event Registration Guide
Watch the Event Registration Guide video for a virtual tour of a registration, including all possible registration steps.
Helpful Time Stamps:
*To view instructions for downloading the new Requirements for Scoutbook report and to learn how to import that data into Scoutbook, click the button below.
Step-by-Step Instructions
The Events Tab
Events – Event registration can be accessed both from the left navigation menu and the hamburger menu.
Available Events – List of all events currently available for registration.
All Upcoming – Includes all available events as well as events not yet open for registration.
My Events – List of upcoming events for which you are registered.
My Past Events – List of all your completed events; click on an event to access reports and participant data.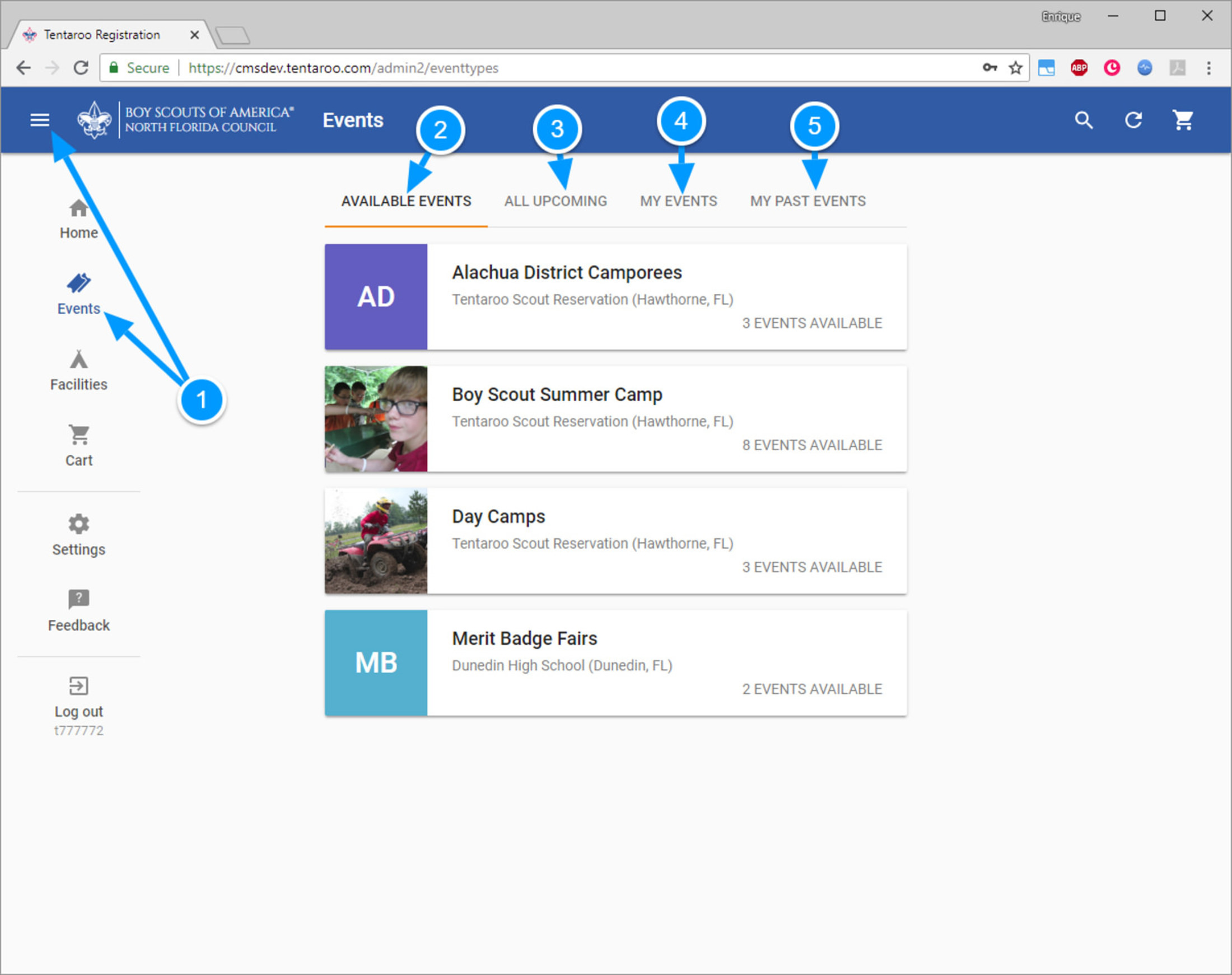 Available Events
Current – List of events within the type of event that are open for registration, i.e. weeks of Summer Camp.
Registered – Events for which you are currently registered.
Past – Your prior events within the type of event, i.e. last year's week of Summer Camp.
Click on an event to view the event details (fees, rules, dates, available class schedule).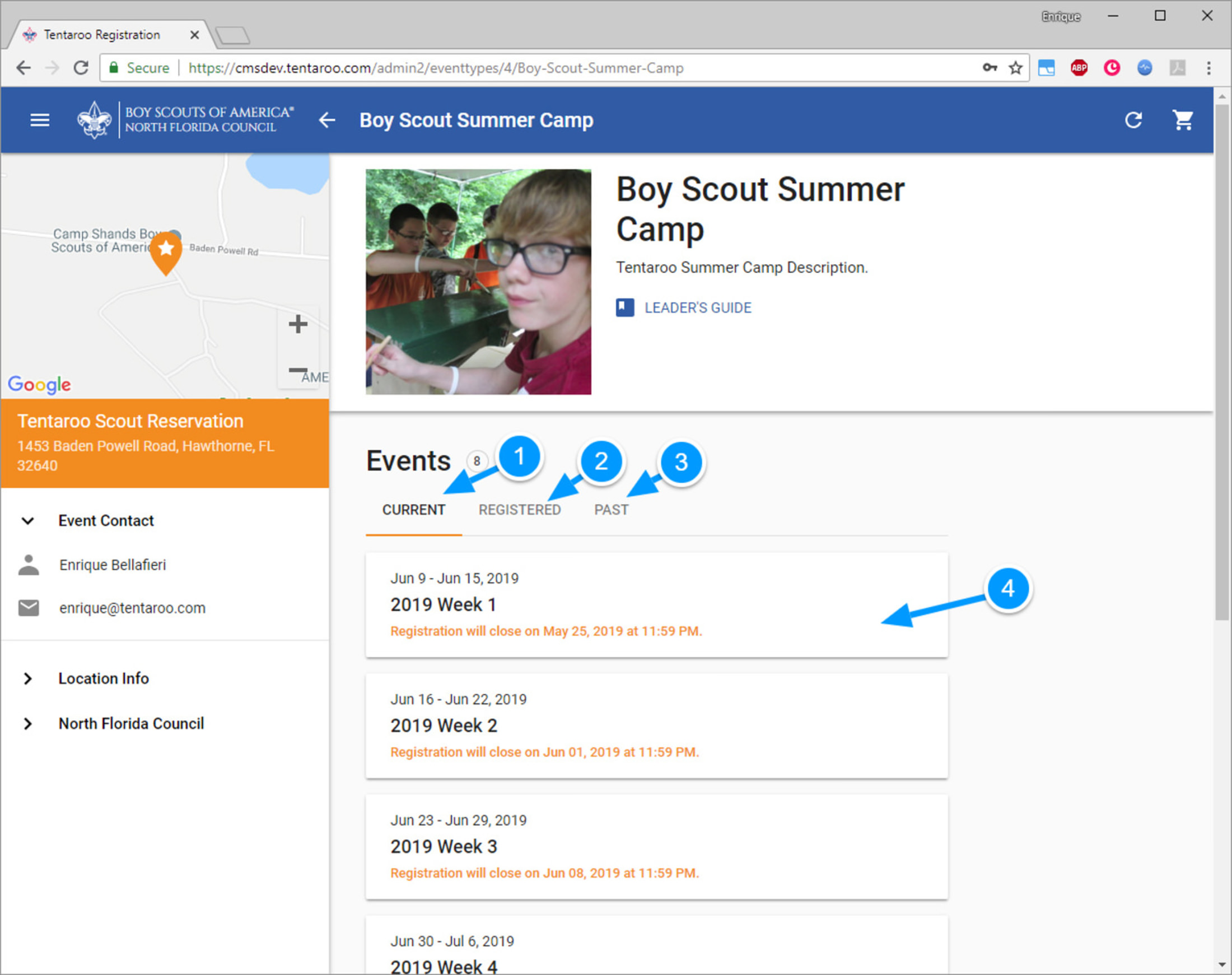 Event Info
Register for Event – Click here to launch the registration wizard.
Pricing & Conditions – View fees, rules, dates, available class schedule, and more.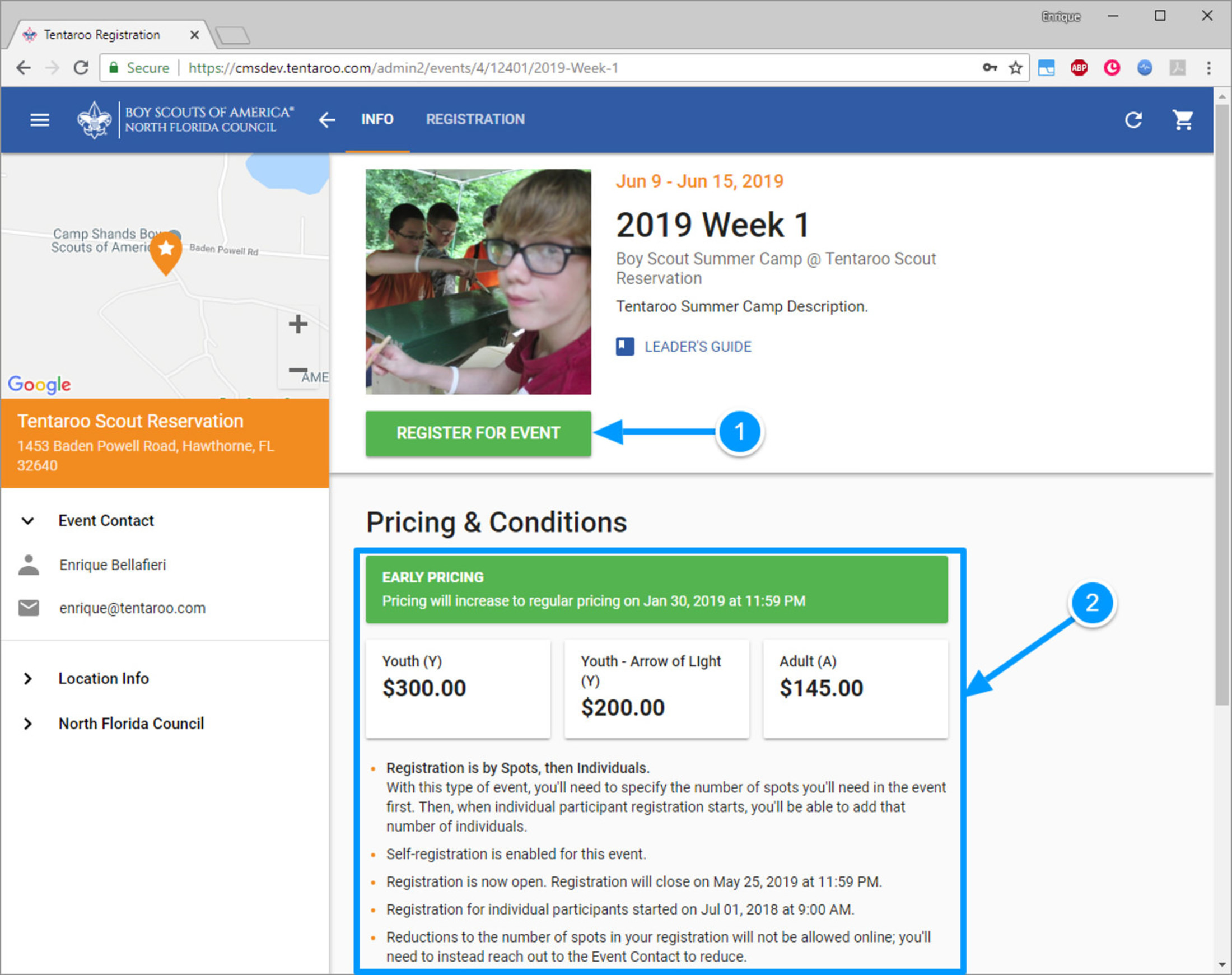 Registration Wizard
Event Wizard – Follow all of the steps in the wizard to completion. Check out of the shopping cart to finalize your registration.
Next – Navigate through the registration wizard using the Next button, or Complete at the confirmation page to add the registration to the cart.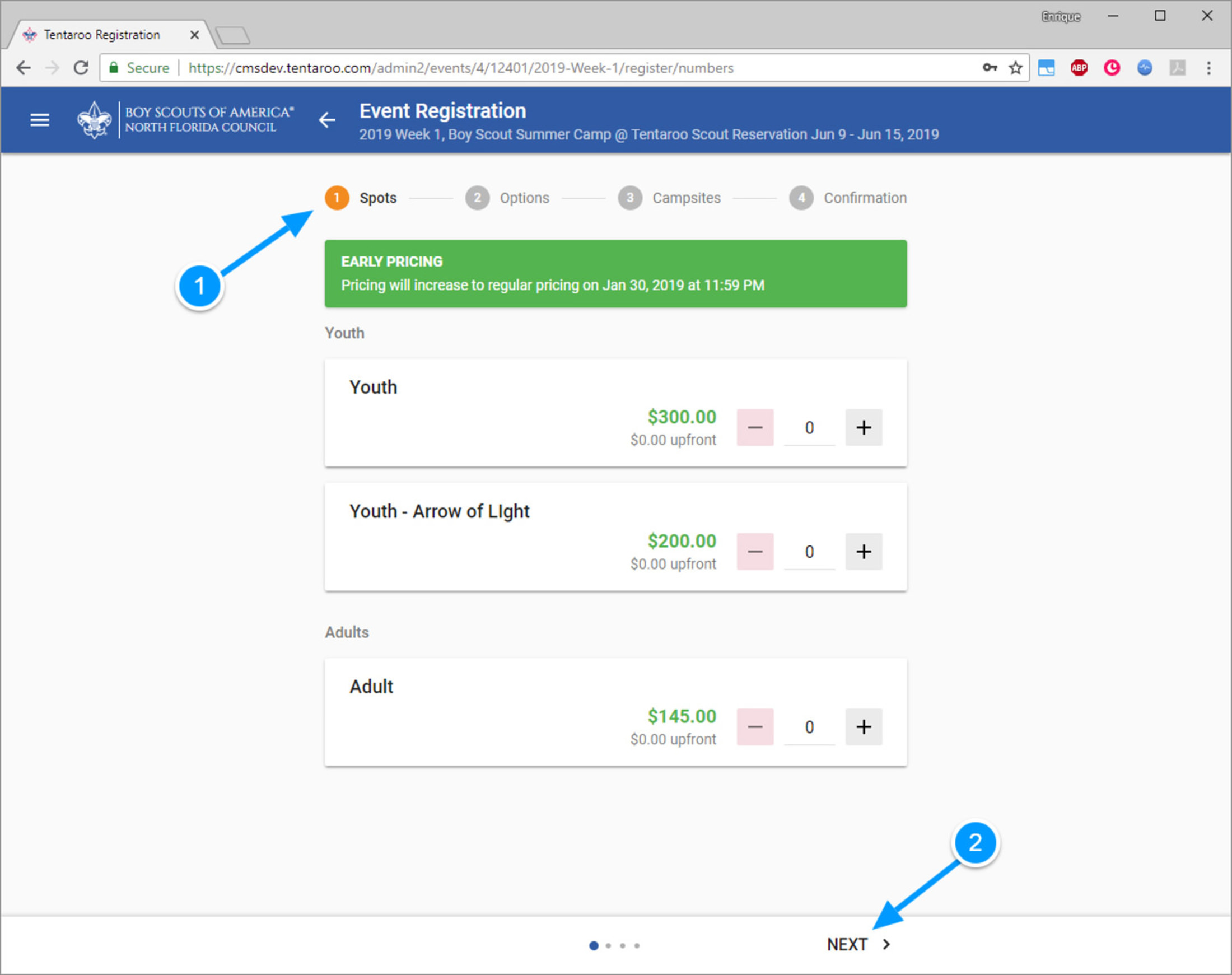 Registration
The Registration page appears after completion of the registration wizard, and can also be accessed by clicking on a registered event on the Home screen. This contains a summary of your registration details.
Info – View general information about the event.
Registration – Add payments to the shopping cart or modify your registration: adjust numbers, add participants, or view and modify class selections as available.
Checkout – Always remember that nothing is finalized until you check out of the shopping cart. Check out is required for every event registration even if there is no payment needed.
Financial Summary – Make payments and view balances for event.
Reports – Print invoices, class rosters, blue cards and other reports. NOTE: Items in the shopping cart will not be included in reports as they are not finalized.
Manage – Select this to edit or cancel registration.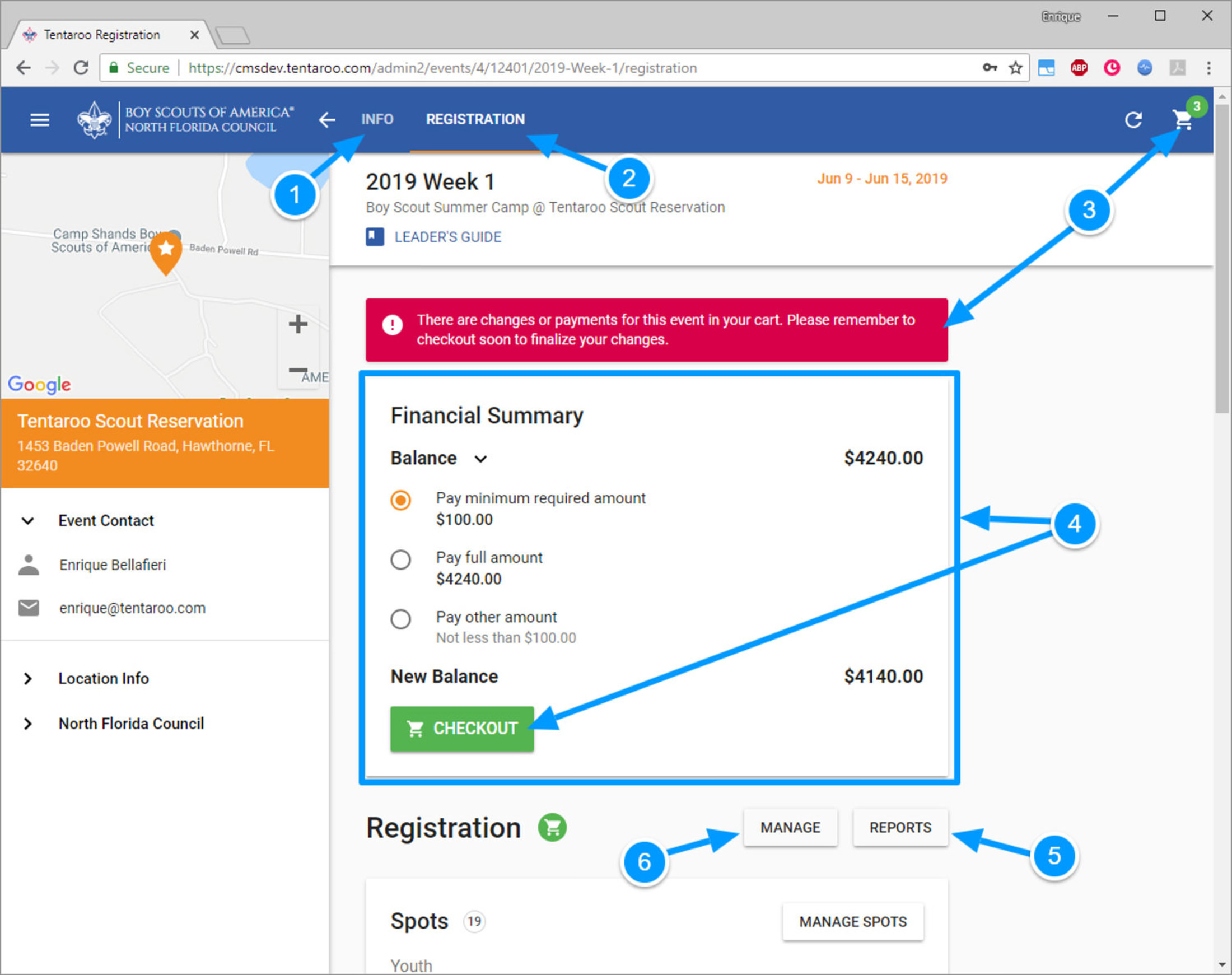 Checkout
Place Order – Items in the shopping cart are not finalized until you check out even if no payment is due at the time. Check out often on events and facilities with limited capacities. Spots are filled on a first checked-out, first served basis.